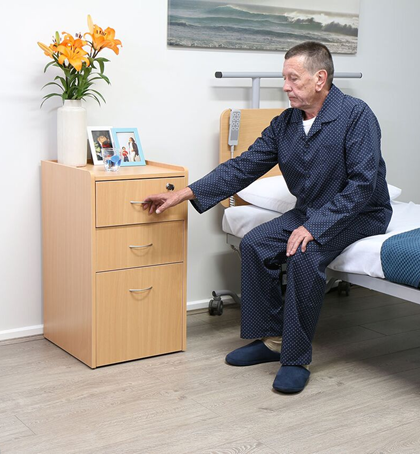 The Great Benefits of Adjustable Beds
Item 1 : Independence   - is the big issue :  The PremiumLift  De Luxe Floor Bed is the prefect answer
If you have mobility issues, especially if suffering from long-term illness or chronic conditions, having an adjustable bed allows you to keep your independence to a much greater extent.
Adjustable beds can have the feet higher, if you need to ease any swollen legs or feet – or can be in a sit-up position, to watch TV or use your laptop, etc. Whether reading, working or anything else you can easily choose the exact position for most comfort – and to avoid neck and back strain. 
You can operate the beds yourself, by an electric hand controller, and thus be completely independent of outside assistance – and this is especially helpful for people who spend long periods in bed and may need frequent adjustment to stay comfortable.
Adjustable beds are also of great benefit to allow a good night's sleep, by having your head and upper body to be a slightly elevated at night, which can assist with breathing  - and also improve oxygen flow around your body during the night. Other conditions which can be improved include those such as snoring, sleep apnoea, and other similar disorders. It is also helpful for people with mobility disorders such as arthritis, paralysis, muscle and lung disorder, and more; all of our beds have this feature, which is known as the Tendelenburg Function, in medical terms.
After any injury or post-op, an adjustable bed can help you to get into just that right position for comfortable sleep.
https://www.breezemobility.com.au/products/deluxe-floor-bed
Item 2 : Fall Prevention and Carers Support : The PremiumLift  Ultra Low Bed is the answer for your needs
With the same adjustments as the DeLuxe Foor Bed the Ultra Low Bed is the answer for decreasing the risk of injuries caused by falling out of bed. It has the same adjustment features as the others in the series – but it can be lowered to 6.7cms top of frame height above floor level the lowest of any bed in Australia. It has the same adjustments as the other beds in the range but the unique feature of this bed is that, when the time comes for sleep, it can be lowered by the same electric remote controller until the top of the frame is only 6.7cms above the floor – thus minimising the chances of injury to the patient.
https://www.breezemobility.com.au/products/ultra-low-bed
Item 3 : Carers Beds and Accessories
Matching Carers Beds are available to sit beside the adjustable bed, to blend in with the same décor and finish – which even include a 3-drawer bedside cabinet and other items.
A full range of accessories is also available, ranging from headboards and removable side rails to Overbed tables, inflatable air-mattresses and much more.
Please see the full range of beds and accessories on our website