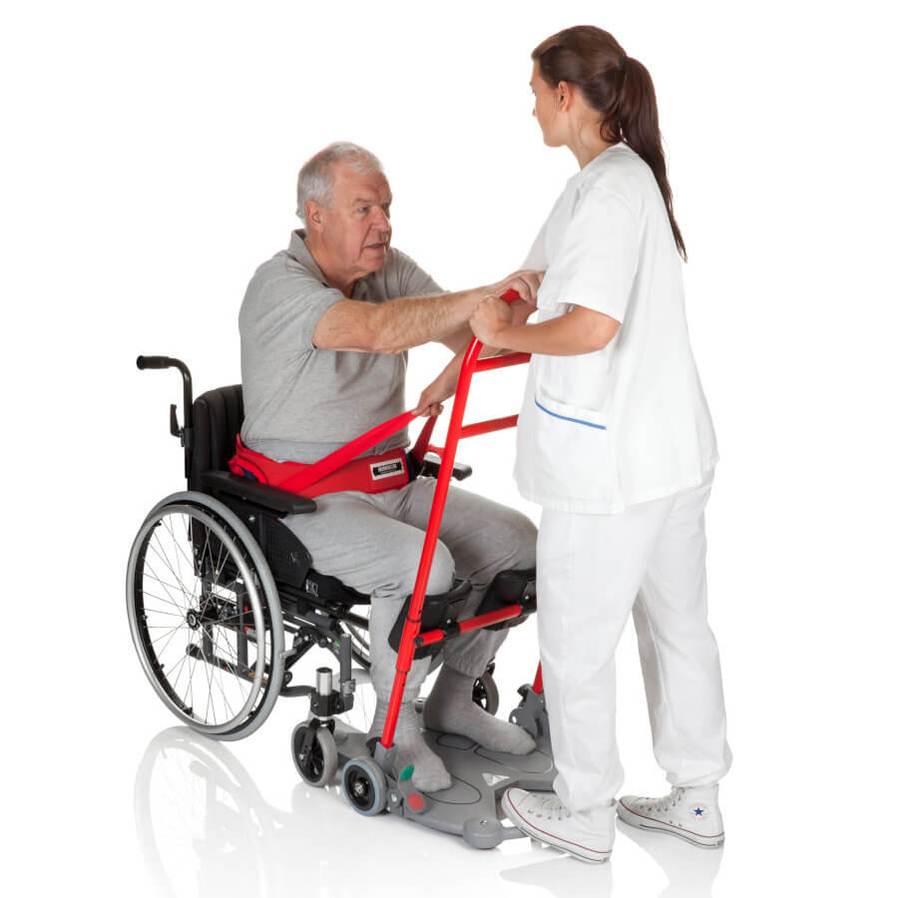 In and Out of a Wheelchair
Getting in and out of a wheelchair is a difficult skill, especially for less mobile users or when transferring to different surface heights. Some wheelchair users can complete these transfers on their own. However, others may require assistance. 
At Breeze Mobility, we are passionate about helping people find the products that best suit their needs. The Romedic ReTurn is a popular product that supports those who may require assistance. It is an incredibly effective patient transfer device that assists transfers and can make it easier for people to get in and out of their wheelchair.
About The Romedic ReTurn 
The Romedic ReTurn is a manual patient transfer device that provides an easy, convenient, and natural way to transfer from a wheelchair to a bed, chair, showerchair, or toilet.
Romedic ReTurn is an ideal tool in a rehab unit, hospital ward, or home as it can support transfers for wheelchair users. The Romedic ReTurn reduces manual handling risks for the user and carer. While it can also be used to reposition the users further back in their wheelchair for comfort and pressure care. Additionally, it can also be used as a rehabilitation aid as it replicates the natural movement pattern during standing.
The Romedic ReTurn is designed for users with impaired mobility, strength, or balance, such as those in a wheelchair. It is ideal for patients who may not be confident or able to walk for short distances but can bear some weight, support the movement with their arms, and actively participate in the transfer. 
Quality of life can be hugely improved by simply providing the opportunity for someone to utilise their own ability and strength to transfer in and out of their wheelchair. 
The Romedic Return Range
Breeze Mobility offers the following Romedic ReTurn models:
Romedic ReTurn 7500i
The Romedic ReTurn 7500 is our most popular model. The upgraded 7500i model features a rising ladder with an opening for quick and easy use of the ReTurn Belt. This product is suitable for most users and can be used in a variety of settings.
Romedic ReTurn 7600
The Romedic ReTurn 7600 was developed for bariatric clients and can support users weighing up to 205kg. The ReTurn rolls and steers easily, even with a heavy user. This model has a wider base and supports that are adapted for heavier users.
Romedic ReTurn 7400
The Romedic ReTurn 7400 is ideal for smaller adults and children. This model has a lower ladder that is better suited for grip position and use by shorter individuals. The maximum user weight is 150kg.
Romedic ReTurn Belt
Available separately, the ReTurn Belt complements the Romedic ReTurn System by providing additional support and safety. The ReTurn Belt is available in several sizes and materials. Romedic also offers other accessories for the ReTurn, including extra leg padding or a specially designed bag for transporting items. 
Key Features of the Romedic ReTurn
Simple and easy to use (for both clients and carers)
Stable and secure platform base
Sturdy brake locking system for added stability and security
Manoeuvres and pivots smoothly, even in confined spaces
Neat and attractive design
Low centre of gravity and broad base of support for stability>
Lightweight and easy to move
Low profile so can be positioned close to the user and wheelchair
A rear recess to enable toilet access
Disassembles into two parts for easy transport or storage
Multiple grips and hand placement options for the user
Adjustable height and width of lower leg support to suit the individual needs of each user 
The base plate has an in-step of only 4cm so the client does not have to lift their feet very high to stand on to the platform
Anti-slip footplate
Clear markings for the user's foot positioning
Easy to clean to optimise infection control procedures 
Appropriate for both short-term or long-term needs
The Romedic ReTurn is a versatile patient transfer device that can help with getting in and out of a wheelchair. It supports independence, freedom, dignity, and comfort for those with limited mobility.
Download the brochure to find out more about the Romedic ReTurn and how it can help you or a family member transfer more easily in and out of a wheelchair. 
Need Any Help?
Breeze Mobility is proud to offer the full range of Romedic Products. Read more about the range here.
Our product experts are happy to answer any questions and assist with your order. Call us on 1300 557 341 today! We look forward to helping you find the right mobility aid for your situation.