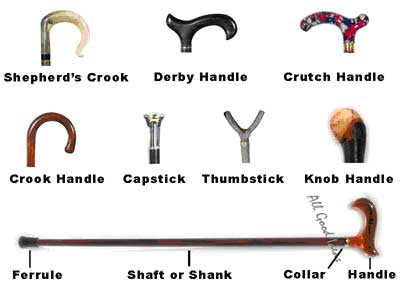 Choosing a walking stick
Choosing a walking stick
Walking sticks are made from various materials. Metal and carbon fibre sticks tend to be stronger than wooden ones, and some are height adjustable, whereas wooden walking sticks will need to be cut to the correct height. 
It is very important that your walking stick is the right height for you, otherwise it can be potentially unsafe and can't be used for bearing weight.
The handles of walking sticks also come in a variety of shapes, ranging from the conventional crook handle and T handle to a 'swan neck', designed to make the stick feel balanced, and an ergonomic handle shaped to fit your hand. 
Different handles will suit different people – some will be preferable for those with painful joints or a weaker grip, for example – so it's a good idea to try out different types before settling on one in particular. Some people prefer the traditional look and feel of a 'plain' wooden walking stick. But for those who want something a bit more decorative, coloured and patterned sticks are also available.


Folding walking sticks
A folding walking stick can be discreetly carried in a bag or shopping trolley, or left in the car. Look for a model that is light, easy to fold and unfold, and reasonably compact when folded. The unfolded stick should feel robust and the handle comfortable to grip.

Tripod and tetrapod walking sticks
If you need a little more support, you could try a tripod (three-footed) or tetrapod (four-footed, also known as quadrupod) walking stick. The feet are spaced apart to give the walking stick a wider base. The neck of the stick is either straight or swan-necked; finding the right style of neck can help you distribute your weight most effectively. One advantage of tripod and tetrapod walking sticks is they can be left standing up by themselves – and will stay standing up – so you're less likely to have to bend down to collect them from the floor.

Walking sticks with folding seats
Walking longer distances can be tiring, and can also put a strain on sensitive muscles or joints. A walking stick that has a foldaway seat (sometimes known as folding seat canes or stick seats) can be a useful aid, allowing you to sit down for a rest when needed. Look for one that is height adjustable.

Walking stick ferrules
All walking sticks and walking frames without wheels have rubber feet on the legs, known as ferrules. Check the ferrules regularly to ensure they haven't become worn or damaged. Replacement ferrules are available in different diameters from hardware shops, chemists, mobility shops and online. To stay safe, replace ferrules regularly.

Walking stick accessories
A walking stick clip can be fitted to a level surface, such as a table, allowing the stick to be clipped in place when not in use and therefore prevent it from falling to the floor. A walking stick mud/ice grip will fit onto an existing walking stick base to provide extra traction in slippery conditions. The grip can be flipped down to use, and back up again when it is no longer needed.