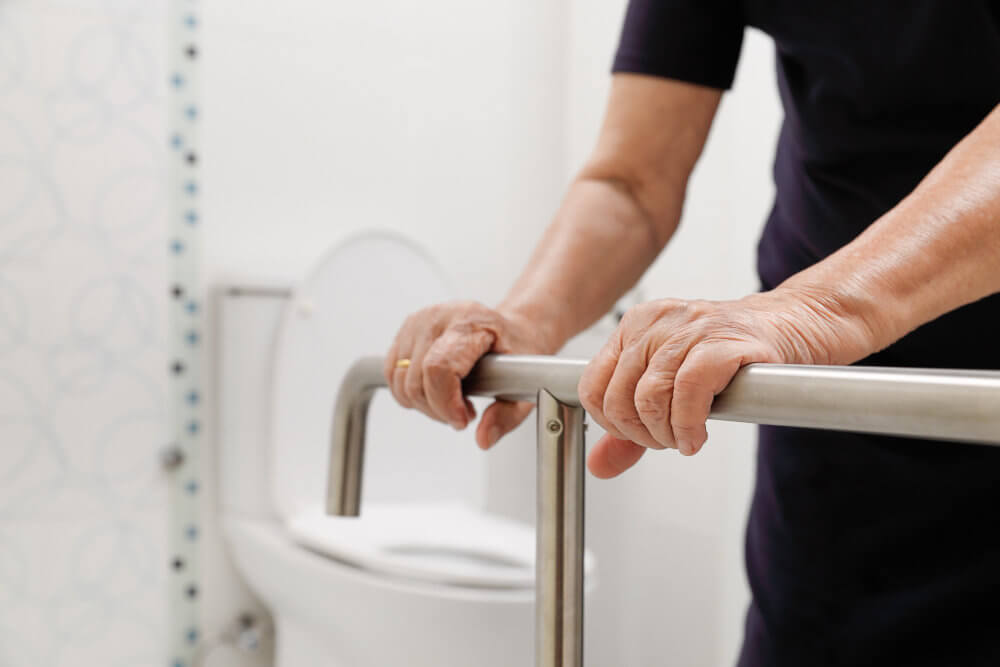 7 Bathroom Aids to Support Independent Living
Article written by Ross Taylor, Physiotherapist
In this blog post we take a closer look at 7 popular bathroom aids which can be used to support independent living.
Whether someone has a disability or just needs some assistance with simple tasks as they age, there are products which can help.
Assistance with simple daily tasks can be the difference between having care provided or needing to be transferred in to a care environment.
One of the most common areas that we find assistance is required is in the bathroom. This is due to the nature of personal care and washing tasks that help us to remain independent that we perform in the bathroom.
Failure to do these tasks yourself can often leave us with a poorer quality of life, loss of confidence and dignity.
If there is a way for these tasks to be done without additional help, this is always the best.
Here are a selection of common products and how they help to assist with independent living.
Top 7 Bathroom Aids for Independent Living
Bath Lift
For people struggling with accessing their bath, a bath lift can provide a great option to get in and out of the bath safely. We highly recommend the Bellavita Bath Lift.
Modern baths can be difficult to get in and out of and can often lead to accidents when mobility becomes a problem or if a person has a disability.
Changing the bathroom to a more accessible option can cause upheaval, is expensive and is often not possible – but bath lifts are an affordable option which are easy to install and do not cause much disruption.
Raised Toilet Seat
Sitting down to the toilet can become difficult due to hip and knee problems. An easy around this if someone is struggling to sit down and also get up from a lower height is to raise the toilet seat. A raised toilet seat provides a higher level so that there is less of a distance to sit down and stand up – making this a much easier movement requiring less range of movement.
Grab Rails
Along with a raised toilet seat, grab rails can often be a handy addition to a bathroom in key places where support is required. Placing grab rails near the toilet and also close to the shower and bath or near any steps help to provide security and stability to someone who may not be confident on their feet.
Mobile Commode
This can help to provide toileting options for people who may not be very mobile or need an additional toilet within another area of the home.
A mobile shower commode is essentially a chair, with secure, lockable wheels which has a pan underneath which allows people to sit to go to the toilet. Commonly these can be placed next to the bed for quick access or downstairs if getting upstairs quickly is a problem. A mobile commode can help to keep someone in their home if toileting is becoming an issue.
Shower Stool / Chair
Standing in the shower can become difficult for some people or the wet environment may cause concern with stability. For safety and mobility reasons, people like to sit down. Using a secure shower chair or stool helps a person to shower comfortably, safely and without worry. They usually comprise of non-slip feet which provide a safe base.
In addition – a shower mat is an essential for safety whilst bathing. Shower and bath surfaces can be slippery when wet. To reduce the risk of falls and slips, as non-slip mat would be suggested.
Bath boards
Bath Boards provide a surface that sits across the top of the bath and acts as a platform to hold and rest items on. This is ideal for placing sponges, cleaning aids and toiletries on so you can keep your hands free for important tasks. A bath board can help these items be easily accessible when washing rather than having to reach outside of the bath or having to get in and out.
This concludes our guide to bathroom aids for independent living. If you think this article could help someone you know then please share it.
If you require any further advice regarding bathroom aids – Breeze Mobility has a dedicated team of staff who can provide information on all mobility products.