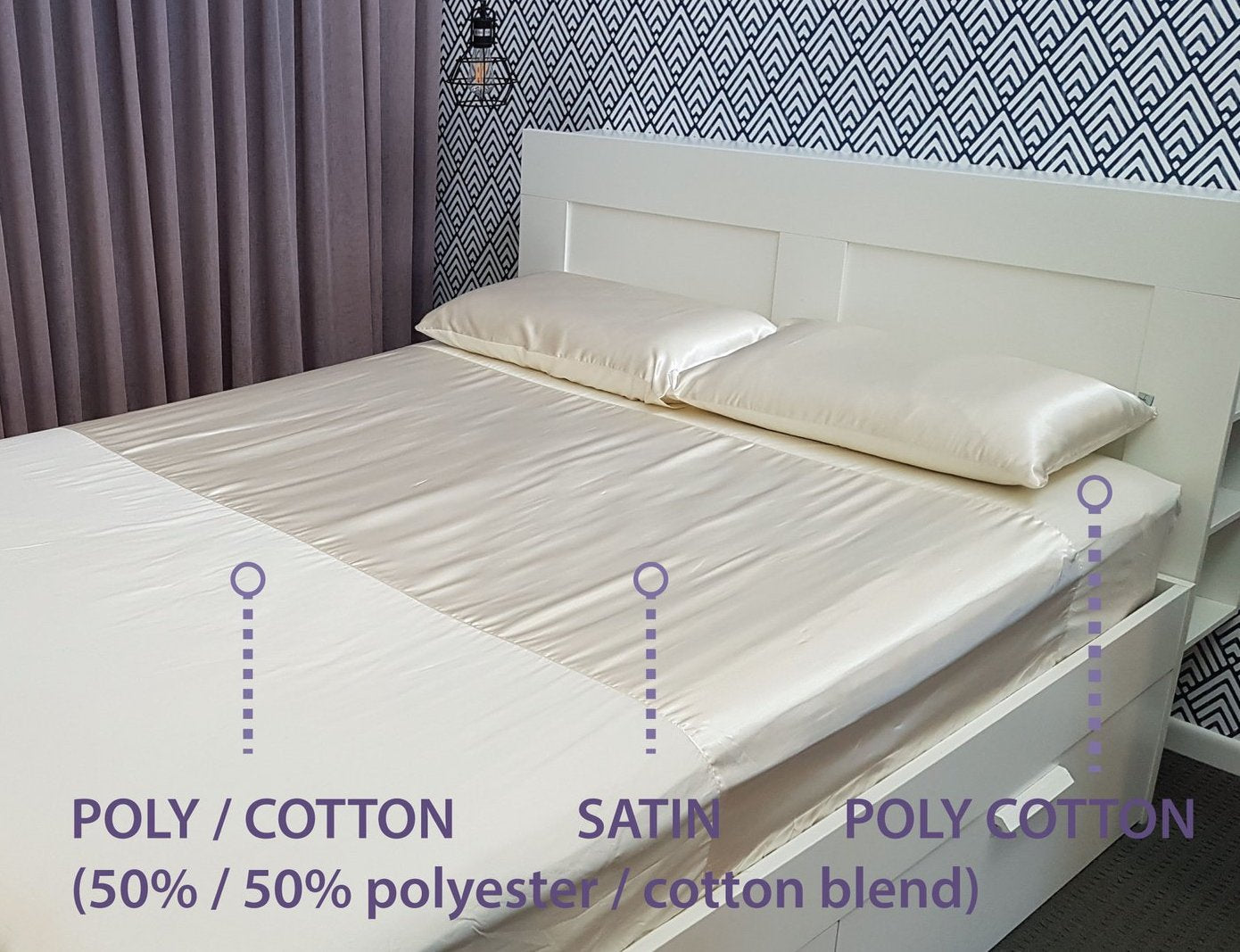 Wondersheet Original (Ecru)
✅ NDIS Registered Provider ✅ Quality Australian Brands at the Lowest Prices ✅ Fast Delivery Australia-Wide (FREE over $250) ✅ Over 8000 Happy Customers ✅ Satisfaction Guarantee ✅ Australian Owned & Operated
The 'Wondersheet' is an effective therapeutic tool because it can make your mobility in bed easier.
The satin panel, which is 90cm long, sits under your shoulders, back and hips and allows you to slide your hips over more easily without having to lift them. It's also particularly helpful when getting in and out of bed because you can pivot on your hips without worrying about the friction from normal cotton sheets.

This unique design creatively combines 'Glossy Charmeuse' satin and a 50/50 blend cotton/polyester fabric which is beautiful to sleep on while being very durable.
Please Note: The 35cm depths are suitable for mattresses up to 30cm. The 45cm depths are suitable for mattresses up to 40 cm deep.
HOW DOES IT HELP?
It can reduce the risk of skin breakdown causing pressure ulcers.
It enhances your independence while improving the quality of life.
It can work in conjunction with other equipment, such as a bed pole
It reduces the risk of back injuries to cares because repositioning is easier.
It enhances a comfortable sleep because it helps with fatigue management.
WHO CAN IT HELP?
Anyone of any age, including the young that have limited mobility because of;
Parkinson's disease
MND
MS
Stroke
Chronic Arthritis
Ongoing Chronic Illness, pain & disability
Spinal Cord Injury
Brain Injury
Joint Pain
Bariatric
General Ageing & Weakness
The Carer
Cerebral Palsy
Muscular Dystrophy
Palliative
Hip, Knee & Shoulder Surgery
Standard Bed Sizes:

Single: 91 x 193cm
King Single: 107 x 203cm
Double: 135 x 193cm
Queen: 152 x 203cm
Terms and Conditions:

All sizes and depths are subject to availability and may not be available. We will acknowledge your order within 48 business hours.
Postage will be a flat rate of $10.
We have 35cm 'depths/walls' in some sizes which are suitable for mattress up to 30cm.
We also have 45cm 'depths/walls' in some sizes which are suitable for mattresses up to 40cm deep.
A 2.9% credit card fee applies.
There is a 12month warranty on the workmanship of all our products. Workmanship means, if the sewing/seams come apart in any way we will replace your sheet with a brand new one. Care instructions are on the packaging and on the sheet and should be followed.
The Wondersheet +PLUS is available in 'white' colour
The Wondersheet 'original' is available in ecru' (creamy/beige)
There are matching pillowcases in both designs. A set of Pillowcases means two (2).
Pictures are for illustration only and slight variations may occur