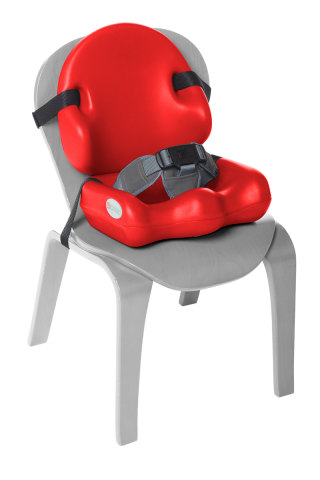 Special Tomato Soft Touch Liners
✅ NDIS Registered Provider ✅ Quality Australian Brands at the Lowest Prices ✅ Fast Delivery Australia-Wide (FREE over $250) ✅ Over 8000 Happy Customers ✅ Satisfaction Guarantee ✅ Australian Owned & Operated
The Special Tomato Soft-Touch Liners are recommended by therapists for children with mild to moderate sitting support needs. These liners do not come with a shoulder harness to support a child's trunk, so if a child has decreased head and/or trunk strength, they need to be attached to a seating system or stroller that has head support and/or a harness to support the child's trunk. For a seating system that provides trunk and head support, the Special Tomato Soft-Touch Sitters are available.
DESCRIPTION
The Soft-Touch Liners offer an affordable alternative to other seating systems, and eliminate the need to transport heavy seating systems. They are made of a soft-to-touch, latex-free, and anti-microbial material. The contoured seat and back cushions promote good posture while sitting in a standard seating system for children with mild to moderate positioning needs. The seat and back cushions can be used separately or together.
A new Soft-Touch Liner Hip-Flex® Seat has been specifically designed and shaped with a living hinge to comfortably move with and support the body as it reclines. It works well with Special Tomato products that offer a recline function, such as the Recliner Support System, EIO Push Chair and Jogger Stroller.
The Soft-Touch Liners can be attached to most seating systems including, but not limited to, dining room chairs, restaurant chairs, classroom chairs, office chairs, strollers, and wheelchairs.
Features
Softly sculpted seat and/or back cushion
Integrated absorber for seat cushion
3-point pelvic harness for cushion seat
Each cushion has straps for attachment
Specifications
| Special Tomato Soft-Touch Liners | Size 1 | Size 2 | Size 3 | Size 4 | Size 5 |
| --- | --- | --- | --- | --- | --- |
| Standard Seat Cushion Width | 20 cm | 25 cm | 30 cm | 35.5 cm | 40.6 cm |
| Standard Seat Cushion Depth | 20 cm | 25 cm | 30 cm | 35.5 cm | 40.6 cm |
| Hip-Flex® Seat Cushion Width | 20 cm | 25 cm | 30 cm | 35.5 cm | 40.6 cm |
| Hip-Flex® Seat Cushion Depth | 20 cm | 25 cm | 30 cm | 35.5 cm | 40.6 cm |
| Back Cushion Width | 18.75 cm | 21.25 cm | 25 cm | 33cm | 35.5 cm |
| Back Cushion Height | 25 cm | 33.75 cm | 36.25 cm | 39.3 cm | 40.6 cm |
| Overall Dimensions of Standard Seat Cushion DxW | 27 × 28 cm | 33 × 31 cm | 38 × 36 cm | 43 × 43 cm | 49.5 × 49.5 cm |
| Overall Height of Standard Seat Cushion | 8.75 cm | 10 cm | 11.25 cm | 11.25 cm | 11.25 cm |
| Overall Dimensions of Hip-Flex® Seat Cushion DxW | 27 × 28 cm | 33 × 31 cm | 38 × 36 cm | 43 × 43 cm | 49.5 × 49.5 cm |
| Overall Height of Hip-Flex® Seat Cushion | 8.75 cm | 10 cm | 11.25 cm | 11.25 cm | 11.25 cm |
| Overall Dimensions of Back Cushion H x W | 26 × 27 cm | 33.75 × 31.25 cm | 36.25 × 33.5 cm | 39.3 × 36.8 cm | 41.9 × 41.9 cm |
| Weight of Standard Seat Cushion | 0.68 kg | 0.91 kg | 1.13 kg | 1.36 kg | 2.27 kg |
| Weight of Hip-Flex® Seat Cushion | 0.68 kg | 0.91 kg | 1.13 kg | 1.36 kg | 2.27 kg |
| Weight of Back Cushion | 0.68 kg | 0.91 kg | 1.13 kg | 1.36 kg | 2.27 kg |
Pictures are for illustration only and slight variations may occur