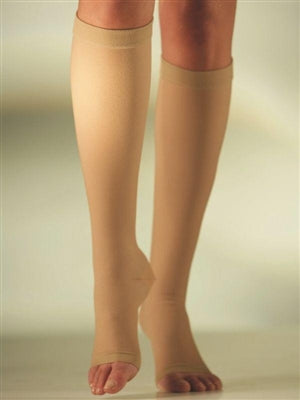 Sigvaris Traditional Calf (A-d) Class 2
✅ NDIS Registered Provider ✅ Quality Australian Brands at the Lowest Prices ✅ Fast Delivery Australia-Wide (FREE over $250) ✅ Over 8000 Happy Customers ✅ Satisfaction Guarantee ✅ Australian Owned & Operated
When it comes down to high medical efficacy, TRADITIONAL is the reliable classic. Day after day, this product gives your legs a secure feeling, ensuring top-quality medical compression. As TRADITIONAL stockings are particularly elastic and breathable, they are extremely comfortable to wear. The neutral skin colour matches all clothing and combines perfectly with delicate stockings. Should be used when a high degree of safety and effectiveness is required.
Beige colour
Open toe design
Maximum pressure stability throughout the day
Excellent strength-stretch ratio
Great medical benefits for safe and successful treatment
High wearing comfort thanks to special elasticity and good air permeability
With refined natural rubber
Absolute Contraindications: Advanced peripheral arterial occlusive disease, congestive heart failure, septic phlebitis (inflammation of the vein caused by microorganisms), phlegmasia coerulea dolens.
Relative Contraindications: Oozing dermatoses, intolerance of compression stocking material, sensory loss of the extremity, advanced peripheral neuropathy (e.g. diabetes mellitus), rheumatoid arthritis (RA). The SIGVARIS compression stockings must never be put on or word over an open wound! No liability accepted in case of non-observance of these contraindications.
Pictures are for illustration only and slight variations may occur