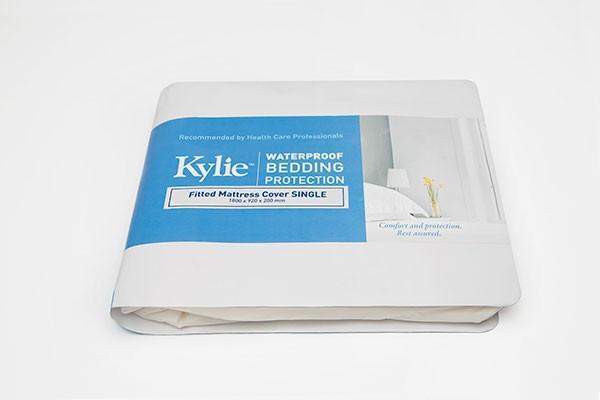 Kylie Bed Fitted Mattress Protector: Available in Single, Double, Queen & King Single
✅ NDIS Registered Provider ✅ Quality Australian Brands at the Lowest Prices ✅ Fast Delivery Australia-Wide (FREE over $250) ✅ Over 8000 Happy Customers ✅ Satisfaction Guarantee ✅ Australian Owned & Operated
Kylie Bed Fitted Mattress Protector: Available in Single, Double, Queen & King Single
Premium quality mattress protector developed from a soft, yet durable, waterproof material

The Kylie fitted mattress cover / protector is treated with an anti-bacterial/ anti-fungal agent to prevent odours and inhibit the growth of bacteria.
PVC (non-phthalates)
Easy to wash and dry without affecting performance
Suitable for use in homes, care facilities & hospitals
This is one of the highest-quality mattress protectors on the market, and we continue to receive great feedback about it from our customers. 
Discreet Delivery with Plain Packaging
NOTE: Due to logistics restrictions please expect your order to be delivered within 10 business days.
About Kylie Incontinence Products
At Breeze Mobility we see many brands come and go, however Kylie is a trusted brand who have stood the test of time. They have been helping Australians manage incontinence with confidence and comfort for many years, and have developed a range of industry leading mattress protectors, bedding covers and chair pads. 
Specifications
Single - (1880 X 920 X 200 mm)
Double - (1880 X 1400 X 200 mm)
Queen - (2040 X 1530 X 200 mm)
King Single (2020 X 1045 X 200 mm)
Returns & Warranty
This product is covered by a manufacturer's warranty, however due to our strict health & safety policies we unable to provide a change of mind refund or exchange on this product.
If you are unsure if this product is right for you please call or email before placing your order.
Pictures are for illustration only and slight variations may occur