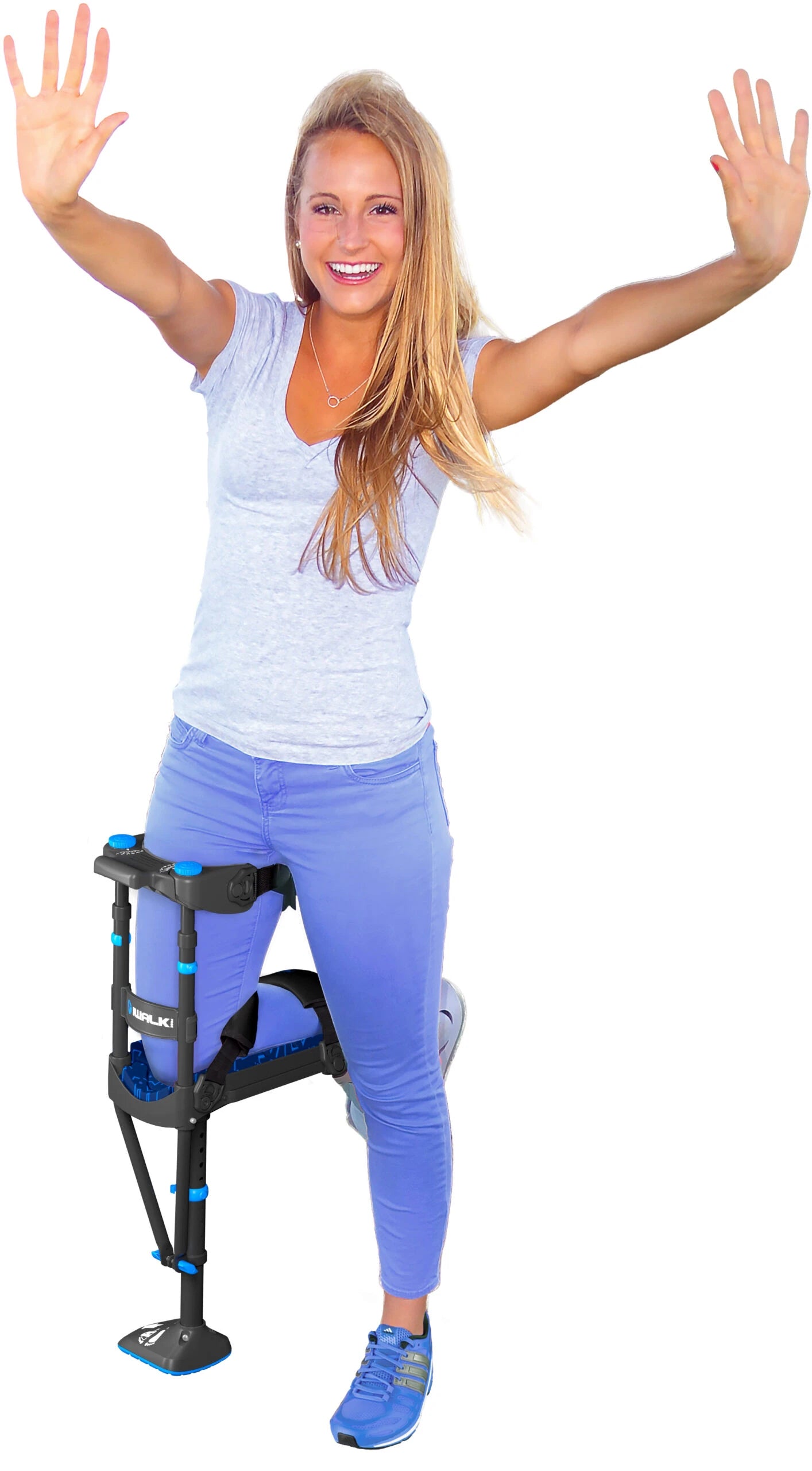 ✅ NDIS Registered Provider ✅ Quality Australian Brands at the Lowest Prices ✅ Fast Delivery Australia-Wide (FREE over $250) ✅ Over 8000 Happy Customers ✅ Satisfaction Guarantee ✅ Australian Owned & Operated
End the Pain and Inconvenience. Crutches and Knee Scooters Are Obsolete!
New and improved design.
Safe, stable, economical and easy to use, the iWALK3.0 is the obvious choice over conventional crutches or knee scooters. It allows people with lower leg non-weight bearing injuries to lead functional, hands free, pain free lives during their rehabilitation.
It's a clinically proven, FDA and CE registered Class 1 Medical device.
Think of all the things you can't do when using conventional crutches; preparing a meal, walking your dog, carrying a cup of coffee, pushing a shopping cart. You no longer need to have your life interrupted – the iWALK3.0 sets you free to resume your day to day routine and enjoy pain free, functional mobility.
Basic Qualifications:
1) Before your injury, could you fluidly walk up and down stairs at a normal pace, without using a hand rail?
2) Can you balance on one leg for at least 30 seconds?
If yes to both, then you have the physical capabilities to use the iWALK3.0..
Typical injuries that are indicated for iWALK3.0 include Achilles tendon rupture, sprained ankle, broken ankle, bunion, jones fracture, metatarsal fractures, broken foot and all other lower leg, non-weight bearing injuries.
Features and Benefits:
Patented FDA and CE Registered Class 1 Medical Device
Regain your independence
Tool free, intuitive adjustments
One size fits from 4'10" to 6'6″ (see sizing information for details)
Take on or off in seconds
Converts for Left or Right leg use in seconds
Independent upper and lower leg adjustments
Adjustable length straps with comfort pads.
Comfortable for long term use
Keeps your injury partially elevated
Manufactured in the USA from the highest quality materials
Comes with a 1 Year Warranty
Comfortable hypoallergenic foam padding
Clinically proven
Design Features:
One size easily adjusts for user heights from 4'10" to 6'6" without tools- See detailed size chart here
Adapts for left or right leg in seconds without tools
Ergonomically lateral offset foot design is self-stabilizing and provides safety and confidence
Replaceable treads provide traction and safety
Change height in seconds for using shoes with different height Easily accommodates all leg types including valgus (knock kneed) and varus (bow legged)
Easy to adjust comfortable straps Assembly is quick, easy and tool free
Breaks down in seconds for easy storage or transport
No latex – hypoallergenic materials
Pictures are for illustration only and slight variations may occur