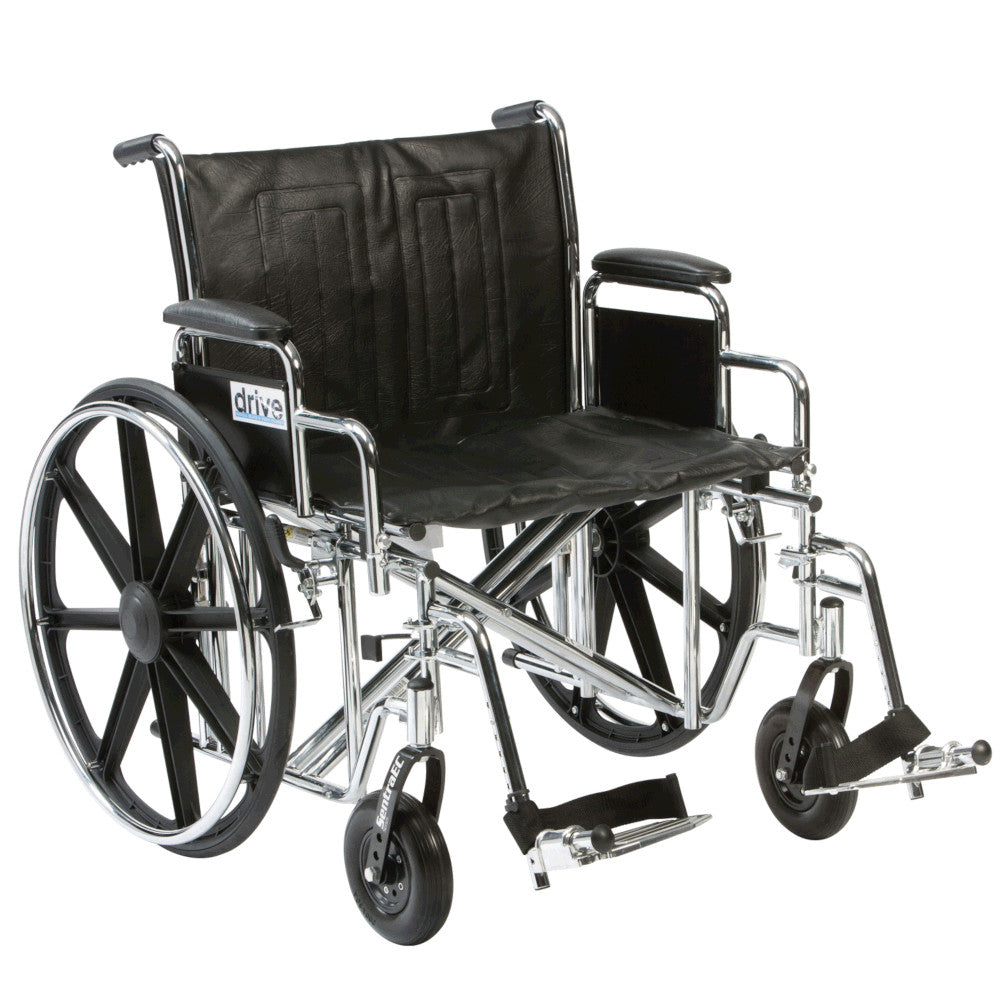 Drive Sentra EC Bariatric Wheelchair - Self Propelled (200kg & 318kg Models)

by

Drive

(

SKU

STD22ECDDA-SFAU)
✅ NDIS Registered Provider ✅ Quality Australian Brands at the Lowest Prices ✅ Fast Delivery Australia-Wide (FREE over $250) ✅ Over 8000 Happy Customers ✅ Satisfaction Guarantee ✅ Australian Owned & Operated
The Drive Sentra EC wheelchair has been our top-selling Bariatric Wheelchair for the past 3 years! And its easy to see why its so popular...
This innovative wheelchair is designed specifically for the needs of the larger person and is comfortable, strong, durable and stable.  Drive Devilbiss are a respected brand who take pride in the wheelchairs they build, and the Sentra EC Bariatric Wheelchair is no exception. 
Take a closer look at some of the key features and highlights below...
Highlights of the Drive Sentra EC Wheelchair: 
Comfortable: Comfort is an essential element of its design. 
Adjustable: Wheelchair users can easily adjust their seat height to hemi-level with the unique dual-axle position of this chair. The solid castors at the front can also move between 3 different positions for optimal comfort and support.
Generous Weight Capacity: Up to 200kg (& 318kg for extra wide seat widths)
Practical: Armrests featuring comfortable padding have a comparatively short length that allows access to most tabletops and other surfaces.
Built-to-Last: Sturdy and stylish wheelchair that has been built-to-last
Stylish: Double-embossed vinyl upholstery and padded desk-style armrests add an attractive look to this chair.
Low- Maintenance: This wheelchair's design limits tiresome maintenance requirements. A chrome finish added onto the carbon steel frame makes the metal elements of this wheelchair chip-free and easily-maintained. Additionally, the

Drive Sentra EC 

wheelchair is fitted with sealed, precision bearings for a maintenance-free design.
Easy Storage & Transportation: Easy-to-fold to make storage and transportation quick and simple. Additionally, the footrests and armrests can be quickly and easily detached from the rest of the chair for tight storage situations or even sideways transfer of users.
200kg and 318kg Models
The Drive Sentra EC is available in 200kg and extra-wide 318kg models.
200kg Models: The 200kg version is the most popular and is available in generous 22" & 24" seat widths.
318kg Models: The 318kg version features a reinforced frame to allow for higher weight limits and wider seat widths without compromising on manoeuvrability, durability or practicality. 
Other Features
Carbon steel frame creates an attractive, chip-proof finish
Urethane tires are low maintenance
Double-embossed vinyl upholstery
Outfitted with push-to-lock wheel locks accessible by user
Solid tyres mounted on composite mag
Product Brochure
Specifications
Please see table below for wheelchair sizes and other specifications for the 200kg and 318kg models
| | | | | | | | | | |
| --- | --- | --- | --- | --- | --- | --- | --- | --- | --- |
| | Width (open) | Width (Closed) | Length | Height | Seat Width | Seat Length | Seat Height | Weight | Capacity |
|  22" Seat | 80cm (32") | 34cm (14") | 107cm (42") | 91cm (36") | 56cm (22") | ) 46cm (18") | 50cm (20") | 26kg | 200kg (32st) |
| 24" Seat | 85cm (34") | 37cm (15") | 107cm (42") | 91cm (36") | 61cm (24") | 46cm (18") | 50cm (20") | 26kg | 200kg (32st) |
| 26" Seat | 89cm (35") | 37cm (15") | 119cm (47") | 97cm (38" | 66cm (26") | 50cm (20") | 43cm-48cm | 40kg | 318kg (50st |
| 28" Seat | 94cm (37") | 37cm (15") | 119cm (47") | 97cm (38" | 71cm (28") | 50cm (20") | 43cm-48cm | 40kg | 318kg (50st |
| 30" Seat | 99cm (39") | 37cm (15") | 119cm (47") | 97cm (38" | 76cm (30") | 50cm (20") | 43cm-48cm | 40kg | 318kg (50st |
Pictures are for illustration only and slight variations may occur