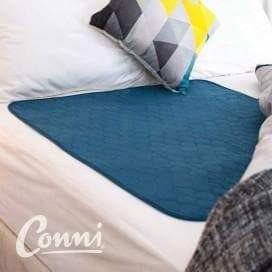 Conni Mate Large Bed Pad Sheet 85x95cm Waterproof
✅ NDIS Registered Provider ✅ Quality Australian Brands at the Lowest Prices ✅ Fast Delivery Australia-Wide (FREE over $250) ✅ Over 8000 Happy Customers ✅ Satisfaction Guarantee ✅ Australian Owned & Operated
Waterproof Absorbent Conni Mate Bed Pad Sheet
Keeps you dry and comfortable. Eliminates complete bedding changes. Machine washable and tumble dryer safe
The Conni Mate Bed Pad; also known as a bedwetting mat holds over 2000mls (68 fl oz) of fluid over 8hrs.
This bed pad is suitable for ALL bed sizes and measures 85cm x 95cm (33.4" x 37.4"). The bound edges are very durable and ensuring a longer life.
Soft stay-dry top layer, highly absorbent slim core, breathable PUL waterproof backing and is extremely light weight.
Simply place the bed wetting pad on top of the bottom sheet; coloured side up; and lay directly on the bed pad. The user will feel most comfortable when wearing underpants or light clothing (from the waist down) as heavy clothing may feel wet.
Conni Mate is an absorbent bed pad designed to ˜trap™ fluid, ensuring a comfortable; dry/night's sleep.
To maintain maximum absorbency avoid using creams, lotions, oils or talcum on the skin before bedtime or directly on the Conni product.
Simply warm machine wash (NOT HOT) with a good quality laundry detergent: never use fabric softeners as it puts a coating on the special fibres and interferes with the pad's absorbency.
An oxygen bleach like NapiSan is recommended if there are any difficult stains or odours (do not use harsh bleach).
The Conni Bed Pad and Chair Pad dry quickly on the clothesline or in the tumble dryer on LOW heat. Too much heat can damage the polyurethane backing.A second bed pad maybe purchased while one is laundered.
The bed pad can be used with our waterproof bedding protectors: waterproof mattress protector; waterproof sheet protector and pillow protector.
Conni incontinence products and Conni Kids bedwetting and toilet training products have passed the rigorous scientific testing by Oeko-Tex to ensure the absence of harmful substances (which are often found in disposable incontinence products). Your Conni product is Oeko-Tex accredited and safe to use against the skin.
At Conni we recognised that PVC should not be used as a waterproof barrier due to its toxicity.
Pictures are for illustration only and slight variations may occur