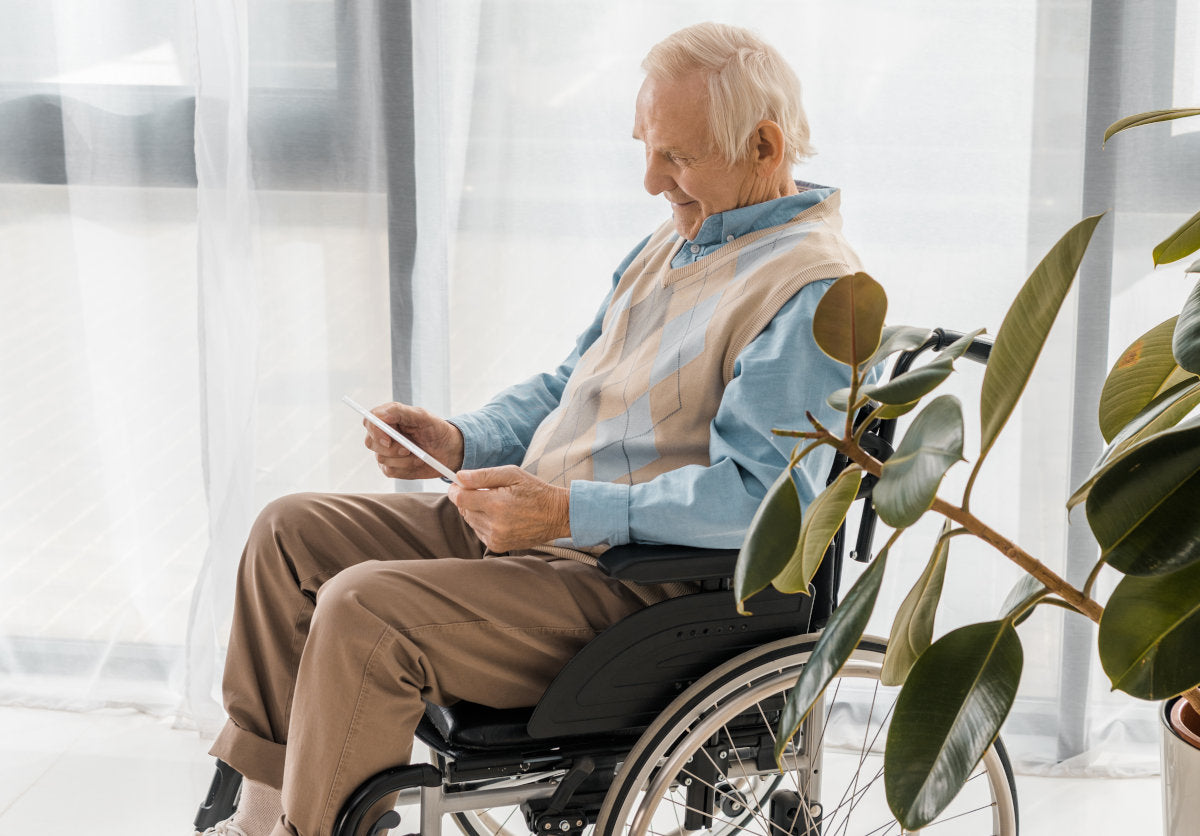 6 Wheelchair Accessories to Improve Comfort, Safety and Convenience
Wheelchair accessories are a great way to not only enhance your wheelchair experience, but also to improve efficiency, comfort and safety.
There are many different accessories for wheelchairs which are used for many different reasons. Depending on how your / your clients wheelchair is used and depending on your personal needs you'll find a range of accessories available in Australia to make using a wheelchair easier, more convenient and more comfortable. 
Accessories may help with things like storage when carrying, holders to free up your hands or even protective equipment, such as cushions, which improves your comfort.
We have compiled a list of the 6 best wheelchair accessories which we think are the most useful and innovative.
Wheelchair Cup Holder
A cup holder attached to your wheelchair can help you to take a re-usable cup everywhere that you go. In these current times, having a reusable cup is popular as we look to reduce plastic use and reduce waste. You could also use it for storing a water bottle to ensure you are hydrated wherever you are.
A cup holder is a great way of keeping your hands free and improving storage issues whilst using a wheelchair. These lightweight and secure holders can attach to the frame safely in most places by the secure fastening.
An umbrella holder on a wheelchair is an essential item if you are spending long periods of time outside. Getting wet whilst outside can affect comfort and make things difficult if you cannot change your clothes or have to be outside for a long period.
Umbrella holders attach securely to the side of the frame of the chair and provide a secure attachment for the umbrella so that hands are free to continue using your wheelchair.
Wheelchair cushions come in many different varieties but making sure you have the right cushion for the needs of their wheelchair user is essential.
Wheelchair cushions are primarily used for comfort of the user but depending on the user there may be other variations of cushion you may need to look at.
Wheelchairs typically come without a cushion or with only a standard issue cushion. This may not be adequate for users who need help with pressure related issues. Cushions are made from various materials, shapes and sizes to meet a wide range of needs. Ensure you get the right cushion to meet the user's needs.
A tray can be an essential and useful addition to a wheelchair and it can have many uses. Wheelchair trays clip on to the frame and provide a secure and safe platform for resting items on.
Trays can be used for activities such as reading and writing and for the daily essentials such as eating and even getting washed or medical care. These items are lightweight and can be wiped clean easily.
Laptop and tablet holders help to place your device in the best position for you. Pacing your laptop or tablet in an optimally ergonomic position can help to reduce strain on the neck and shoulders.
If you are using a device for a prolonged period of time – regular breaks are recommended but working in a best position with the device at eye line and the shoulders/arms in a relaxed and not overstretched position is recommended.
These are a great accessory for any person who has sensitive hands and need added protection. Gloves are a great way of adding an extra layer of protection for the hands. Blisters and pain in the hands are commonly reported form wheelchair users.
Gloves can be useful when wheelchairs are used for sport purposes, high volumes of wheelchair use and simply just for use in colder temperatures.
Gloves have a handy rubber grip so that you can get good purchase on the wheels and most will be waterproof to avoid the gloves becoming wet.
These are just some of the accessories that are available for your wheelchair. We hope that this guide has been useful and it has given you some helpful insight as to what's available. If you need any further advice on wheelchair accessories please contact us for more information and our helpful team can assist you.