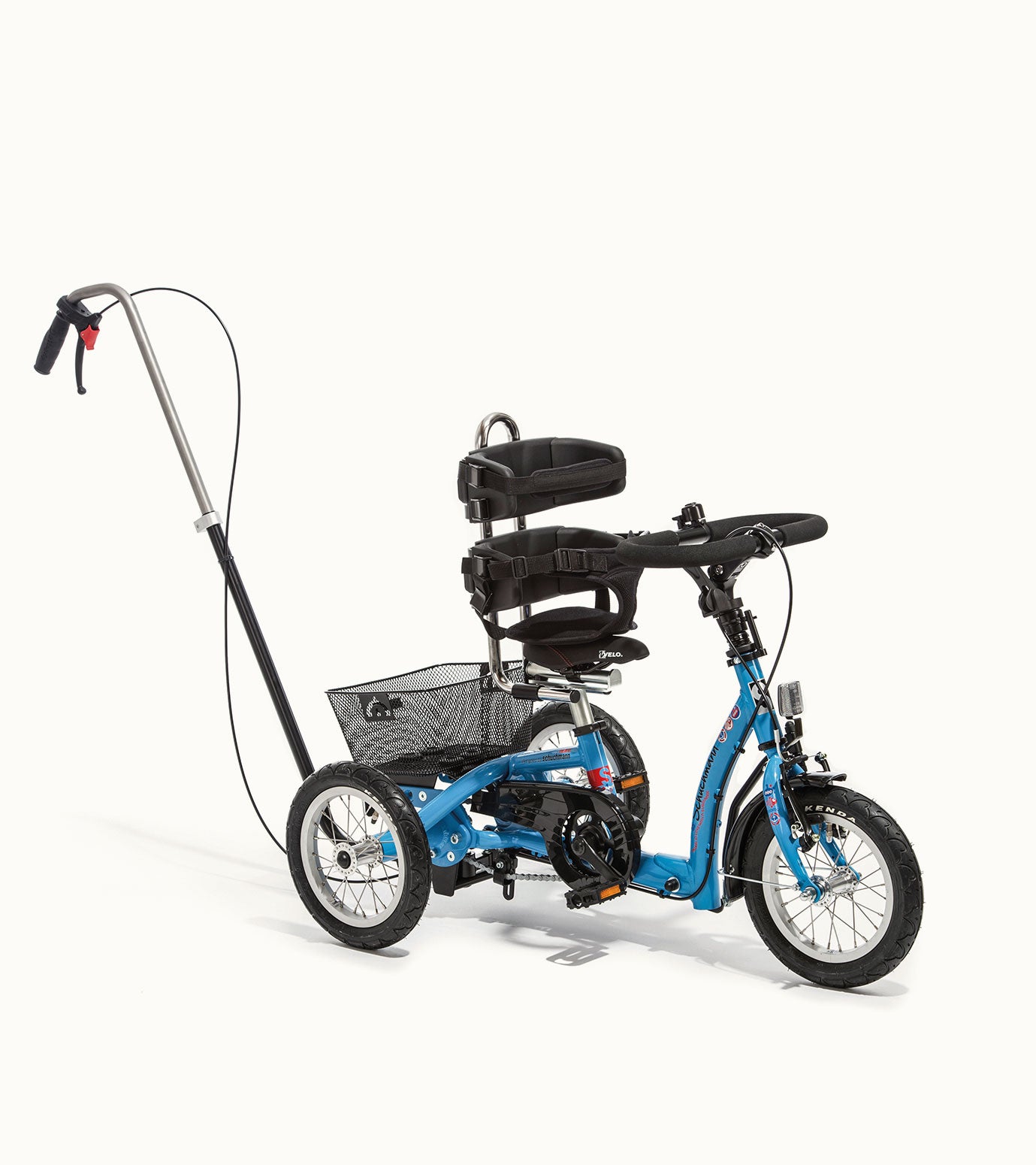 ✅ NDIS Registered Provider ✅ Quality Australian Brands at the Lowest Prices ✅ Fast Delivery Australia-Wide (FREE over $250) ✅ Over 8000 Happy Customers ✅ Satisfaction Guarantee ✅ Australian Owned & Operated
The Schuchmann Momo Tricycle is a cool and fun option for individuals looking to take a ride around their streets or a lake. It not only provides an enjoyable experience but also serves as a way to train and mobilise joints, musculature, and circulation.
Description
The tricycle is customisable and comes in various versions, saddle sizes, handlebar types, and colours. It is also available in a wide range of sizes, making it suitable for children, adolescents, and adults.
Features
For more uniqueness:
A variety of accessories and specialised equipment: Handlebars, saddles, footrests, headrests, and various drives are components of bicycles.
To reduce weight:
Aluminium skeleton with exceptional strength and lightness
Optimised geometry for easy transfer, a comfortable sitting position, and high manoeuvrability.
For a personal drive:
From a rigid drive through a seven-speed freewheel brake hub to electrical support.
For smooth and quiet operation, a high-quality chain guide is essential.
For convenient and independent accessibility:
Low standard level of access
For optimal support, saddles are available in a variety of sizes and shapes, and handlebars are available in numerous variations.
For added support:
Support to maintain upper body posture
Specifications
| | | | | | | |
| --- | --- | --- | --- | --- | --- | --- |
| Data | 12" | 16" | 20" | 24" | 26" | 26" (XL) |
| Pedal to top edge of saddle | 30 – 38 cm | 42 – 57.5 cm | 50 – 64.5 cm | 56.5 – 73.5 cm | 66.5 – 83 cm | 74 – 90.5 cm |
| Pedal to top edge of saddle | 33 – 41 cm | 45 – 60 cm | 52 – 68 cm | 58 – 81.5 cm | 67.5 – 91 cm | 75 – 98.5 cm |
| Saddle support tube to front tube | 33 cm | 39 cm | 45 cm | 52 cm | 58 cm | 58 cm |
| Wheelbase | 68 cm | 80 cm | 91 cm | 104 cm | 112 cm | 112 cm |
| Access point height | 16 cm | 18 cm | 20 cm | 22 cm | 23 cm | 23 cm |
| Full length | 102 cm | 120 cm | 140 cm | 165 cm | 178 cm | 178 cm |
| Full width | 58 cm | 65 cm | 69 cm | 75 cm | 75 cm | 75 cm |
| max. load | 40 kg | 60 kg | 80 kg | 100 kg | 120 kg | 120 kg |
| Weight | 12 kg | 14.5 kg | 17 kg | 19.5 kg | 21.5 kg | 21.7 kg |
Pictures are for illustration only and slight variations may occur