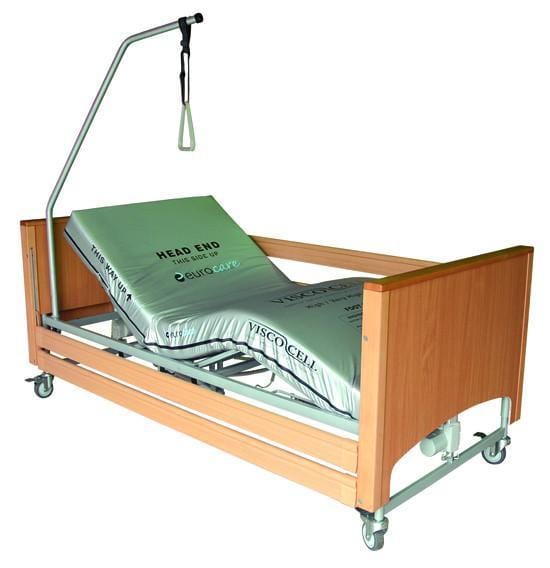 Care Quip - Eurocare Viscount Home Care Bed
✅ NDIS Registered Provider ✅ Quality Australian Brands at the Lowest Prices ✅ Fast Delivery Australia-Wide (FREE over $250) ✅ Over 8000 Happy Customers ✅ Satisfaction Guarantee ✅ Australian Owned & Operated
Care Quip - Eurocare Viscount Home Care Bed BD0020
All bed functions are electronically controlled
High comfort level for patient
Wooden Rails – 380mm high rails to reduce the risk of patient injury
Hand Control – A user friendly design that allows the home care bed system to be locked to prevent unauthorised movements of the bed, caring for the patient's safety
Use of Rails – User friendly release system to lower wooden side rail
Cable System – Well organised cable system to reduce the risk of cables getting trapped/tangled under the bed
Motors Covered – Keeps motors out of sight of while protecting and reducing the cleaning process
Castors – 4 lockable castors for added protection and stability
Monkey Bar – Helps patient to position into the correct position on the home care bed with an impressive carrying capacity of 80kg
Vascular Support (optional)
Product Details:
Width Outside: 112 cm
Width Inside: 90 cm
Length Outside: 212 cm
Length Inside: 200 cm
Height Adjustable: 40 – 80 cm
Mattress Support Dimensions: 79-28-30-63 cm
Backrest Angle: 0 – 70 degrees
Thigh Angle: 0 – 20 degrees
Tilt Action: Optional
Max User Weight: 140 kg
Product Accessories:
 - Extension
This Extension can be added onto the Eurocare Viscount bed.
- Vascular Support
The optional Vascular Support attachment is perfect for high risk patients.
- Hand Control
The Hand Control can be used to easily change the position of the bed.
- Monkey Bar
Helps patient to position into the correct position on the bed.
Pictures are for illustration only and slight variations may occur