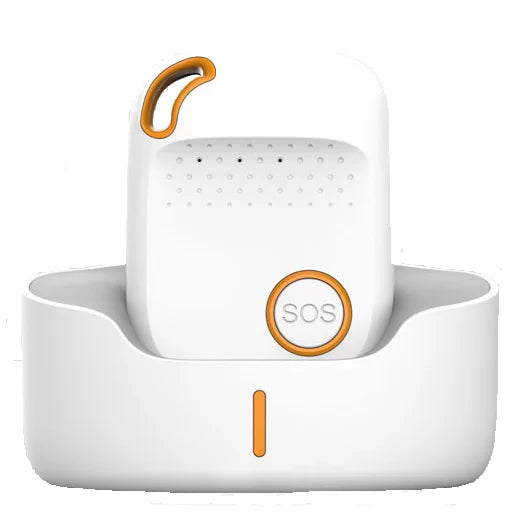 Personal Medical Alarm 4G with GPS Positioning
✅ NDIS Registered Provider ✅ Quality Australian Brands at the Lowest Prices ✅ Fast Delivery Australia-Wide (FREE over $250) ✅ Over 8000 Happy Customers ✅ Satisfaction Guarantee ✅ Australian Owned & Operated
The Most Advanced Personal Emergency Location Device
 Call For Help With The Press of a Button – Peace of Mind, Anywhere, Anytime – on the 4G Network
You can use the New Generation Safe Life Personal Alarm for many applications, such as: 
Knowing the whereabouts of your children
Aged Care
Dementia Care – in particular locating a wanderer & falls detection
Retirement Village use
Farm work and lone workers
People with disabilities and ailments
Personal Security 
Health Professionals and more
 Please scroll down for further information and a demonstrational video.
The Safe Life 4G Personal Alarm for the elderly has many features. Press the SOS button and the device will send out an SMS message to up to 10 pre-programmed mobile phone numbers. This will alert your carer network you need help. The SMS message will also inform the carers where you are located using Google Maps. When the carer responds by calling into the pendant, this incoming call will answer in speaker phone mode automatically, without the user needing to push any buttons.

Alternately, if preferred, the medical pendant can immediately dial the first carer and then subsequent carers after the emergency SMS has sent.
Important note for pacemaker users: Consult your doctor prior to using this product – more information here
Caring for people with extra needs
Locating: When caring for someone who may wander, text "LOC" and the Safe Life Pendant will respond by sending you a location report via Google Maps. It can also do this via the mobile app.
GEO Fence: Set a Geo Fence (or multiple). When the medical pendant breaches the invisible boundary, the carers will receive an SMS message alerting them.
Falls Detection: By turning on the falls detection sensor, all pre-programmed contacts will receive an SMS message when a fall has been detected.
Inactivity Monitoring: When activated, the no movement detection will initiate an alarm if the medical pendant has been stationary for a preset period of time. Whist the device in on charge in the dock the no movement is temporarily inactive.
SIM Card and Programming – What's included in your purchase?
When we receive notification of your purchase, we will contact you regarding the programming of your device and for authority to activate the SIM card in your name. This means your device will be ready to turn on and use when you receive your parcel.  
Your Safe Life Pendant will arrive programmed with an active SIM card in your name with $60 credit on a 365-day Telstra managed SIM with unlimited emergency SMS & Voice enabled, acceptable use policy applies. 
After 365 days, your plan will expire and we will be in contact with you to re-apply more funds. After the first year the cost will be $60* annually.
Wholesale customers please note: Free SIM Card, programming and free freight are only available to retail customers.
You are also welcome to provide your own SIM card, call us to discuss the cost of the device if you choose to go this route.
Wholesale customers please note: Free SIM Card, programming and free freight are only available to retail customers.
*Subject to change, Safe-Life reserves the rights to amend the running costs of the Telstra managed SIM plan.
All in One
Smart Docking Station, Charger and Fixed Location Hub
The Safe Life 4G Personal Alarm comes complete with a bedside docking charger. As you place the SOS pendant on the dock, the announcement, "Your alarm is charging," is sounded.
There is also the ability to fix a GPS co-ordinate location into the docking station, so that when you're at home, this set location will report if an alarm activates. This is good if you live in an apartment complex, as GPS locating via satellite works best outdoors.
Lone Workers and other OH&S Applications
The Safe Life Pendant is excellent for people working alone, duress and other OH&S applications. Click this link to find out more.
Smart Phone APP

 

(Optional)
 You can use the Safe Life 4G Personal alarm with a mobile phone APP so that you may live track and program from the application rather than text messages. However, please note – the app is a paid subscription. If you would like to take up this option and are using a Safe-Life provided Telstra managed SIM, please call Safe-Life to discuss pricing options.
Other features include:
Telstra 4G network
Accurate GPS positioning with Wi-Fi and Bluetooth back up
A Bluetooth docking hub for in door location
Falls Detection
Lightweight &

 

Waterproof to IP67
For use in the community and at home
Money back 14 Day trial period (See conditions)
No monitoring fees. Monitored by friends, family and neighbours.
Professional monitoring is also available. Ask us for a recommendation.
Receive SOS Alarm by SMS message and phone call – No APP needed!
Alarm and low battery voice announcements via medical pendant
Easy to re-program
Personalised out-going Emergency SMS message
No movement Alarm
Optional Alarm Clock
Hands-free two-way voice contact
Programmable with up to 10 emergency phone numbers
Friendly support staff in the Safe Life office
Specification:
Overall Battery Life: approx. 5 yrs minimum (replaceable battery – just call us!)
Rechargeable battery & low battery reporting via text message alerts
2-3 days battery life, less if "Live Tracking" via APP
Dimension: 61mm * 44mm * 16mm
Weight: 53g
1 year warranty
Additional information
| | |
| --- | --- |
| Colour : | White, Black |
| SIM option : | Telstra SIM, No SIM |
Pictures are for illustration only and slight variations may occur