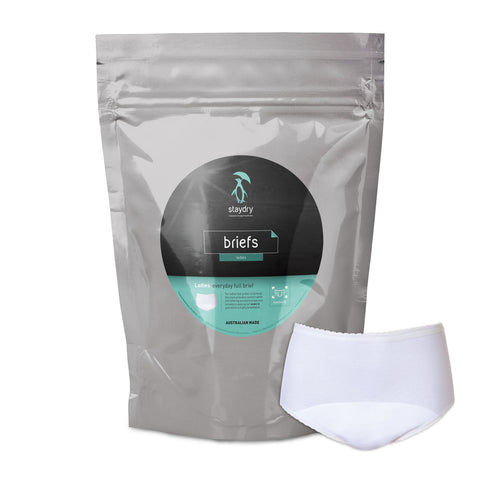 Ladies Everyday Full Brief
✅ NDIS Registered Provider ✅ Quality Australian Brands at the Lowest Prices ✅ Fast Delivery Australia-Wide (FREE over $250) ✅ Over 8000 Happy Customers ✅ Satisfaction Guarantee ✅ Australian Owned & Operated
For ladies that prefer a full brief, this style provides comfort while still offering excellent protection.  Includes a waterproof sewn in pad which is highly breathable.
Perfect for excessive sweating, light incontinence leaks and light period days.
Say goodbye to pads, liners and tampons and reduce your impact on landfill.
Retention Level: 250mls

SIZE GUIDE: 10-12 WAIST 60-65cm HIP 85-90cm | 14-16 WAIST 70-75cm HIP 95-100cm | 18-20 WAIST 80-85cm HIP 105-110cm | 22-24  WAIST 90-95cm HIP 115-120cm | 26-28 WAIST 100-105cm HIP 125-130cm | 30-32  WAIST 110-115cm HIP 135-140cm |
PRODUCT CODES:
STAY2BWH10-12 LADIES EVERYDAY FULL BRIEF WHITE 10-12
STAY2BWH14-16 LADIES EVERYDAY FULL BRIEF WHITE 14-16
STAY2BWH18-20 LADIES EVERYDAY FULL BRIEF WHITE 18-20
STAY2BWH22-24 LADIES EVERYDAY FULL BRIEF WHITE 22-24
STAY2BWH26-28 LADIES EVERYDAY FULL BRIEF WHITE 26-28
STAY2BWH30-32 LADIES EVERYDAY FULL BRIEF WHITE 30-32

STAY2BPI10-12 LADIES EVERYDAY FULL BRIEF PINK 10-12
STAY2BPI14-16 LADIES EVERYDAY FULL BRIEF PINK 14-16
STAY2BPI18-20 LADIES EVERYDAY FULL BRIEF PINK 18-20
STAY2BPI22-24 LADIES EVERYDAY FULL BRIEF PINK 22-24
STAY2BPI26-28 LADIES EVERYDAY FULL BRIEF PINK 26-28
STAY2BPI30-32 LADIES EVERYDAY FULL BRIEF PINK 30-32
Pictures are for illustration only and slight variations may occur