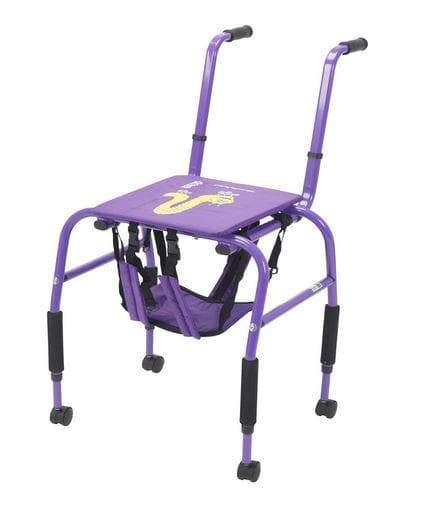 Wenzelite Rehab - Crawl About Crawl Trainer
✅ NDIS Registered Provider ✅ Quality Australian Brands at the Lowest Prices ✅ Fast Delivery Australia-Wide (FREE over $250) ✅ Over 8000 Happy Customers ✅ Satisfaction Guarantee ✅ Australian Owned & Operated
Wenzelite Rehab - Crawl About Crawl Trainer
The Crawlabout Crawl Trainer provides support to patient while instructing, encouraging and reinforcing crawling.
Features
Height adjustable aluminum frame. 
Four easy glide pivoting casters. 
Height adjustable foam padded suspended harness. Adjust to user™s size and ability to bear weight. 
Cushioned pad can support therapist or caregiver while they work with the user. 
Push handles can be attached as users crawling skill progresses. The caregiver or therapist can steer from the rear to provide necessary assistance. 
CrawlAbout small - Weight Capacity 24kg - Price $600. 
CrawlAbout medium - Weight Capacity 34kg - Price $650.
Benefits
Encourages weight bearing and shifting on hands and knees. 
Develops and strengthens neck, shoulder and arm muscles in preparation for walking. 
Improves visual skills. 
Increases tolerance to prone position. 
Develops upper extremity coordination. 
Promotes motor development. 
Provides independent locomotion.
Pictures are for illustration only and slight variations may occur